Sesja którą zrealizowałem z dość osobistej inspiracji.  Muzyka jest dla mnie nieodłączną częścią na każdym etapie tworzenia. Nie potrafię wyobrazić sobie sesji bez muzyki, nie potrafię obrabiać zdjęć gdy coś nie gra mi w tle. Nieraz całe sesje zrealizowałem zainspirowany tylko i wyłącznie jakąś piosenką.

Dlatego ta sesja musiała powstać. Skoro tyle tej muzyki… czemu nie stworzyć sesji z muzyką na pierwszym planie
Modelka: Ola, @poczykowskv
Ta sesja od pierwszych chwil gdy tylko pojawiła mi się w głowie zakładała dokładnie trzy scenerie. To dla mnie swoiste przejście przez trzy fazy obcowania z tym co nas naprawdę napędza – kolejno pasją, marzeniem i nadzieją. Dokładnie takie same jakie kierują mną przy moich zainteresowaniach.
 Sesja ta jest dla mnie również prywatnie drobnym hołdem dla muzyki. Już dawno pogodziłem się, że nie jestem w stanie jej tworzyć. Mam predyspozycje do czegoś zupełnie innego i dźwięk zostaje dla mnie jedynie czymś co potrafię przyjmować, a nie oddawać.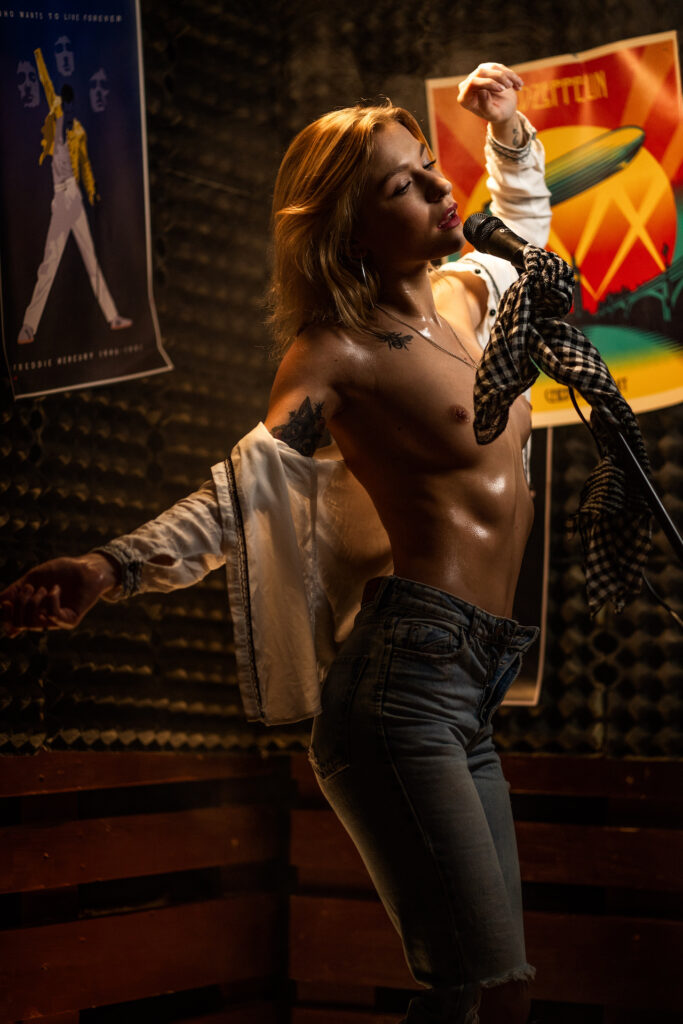 Aspekt z którego jestem chyba najbardziej dumny, to jak udało mi się zdjęcia te zorganizować. Całość, wszystkie trzy stylizacje zostały zrealizowane jedna po drugiej tego samego dnia, w dokładnie tym samym miejscu w moim Studio.
Osobiście zbudowałem scenerię skromnej próby nagraniowej, przygotowałem kompozycję z nieistniejących winyli i stworzyłem sztuczny stadion z drobną pomocą grafiki 3d.
Ta sesja była dla mnie kolejnym sprawdzianem i zarazem potwierdzeniem, że z odpowiednim zaangażowaniem i przygotowaniem – używając dwóch palet i kawałka placu w pokoju jestem w stanie przenieść się w zupełnie inny świat praktycznie na zawołanie.
Tylko moja własna wyobraźnia ogranicza mnie co jeszcze mogę stworzyć w moim Studio